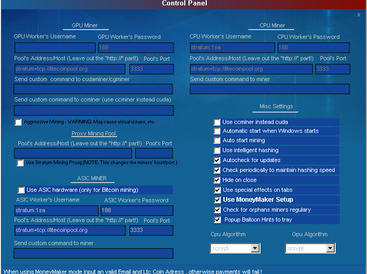 A simple easy to use UI for minerd.exe or cgminer.exe Bitcoin,Litecoin client .
Highly optimized for x86, x86-64 and ARM architectures
It supports the getwork mining protocol as well as the Stratum mining protocol, and can be used for both solo and pooled mining.
Automatically uses SSE2, AVX and AVX2 instructions where available
Supports the Stratum mining protocol
Lightweight, only depends on libcurl and jansson
Tested on a wide variety of operating systems, including Windows
Features :
cpuminer , cpuminer 64 , bitcoin , bitcoin miner , cpu miner , cudaminer , cgminer , gpuminer ( gpu miner ) , stratum mining proxy.
EasyMiner makes cryptocoin mining simple by ensuring maximum transparency with his featured log viewer.
Features
bitcoin miner
litecoin miner
supported algorithms are SHA-256d and scrypt(1024, 1, 1).
supports the getwork mining protocol
stratum enabled
cpu miner included
cgminer included
bitcoin mining
gpuminer included
cudaminer included